We are excited to announce that we are a part of this year's Whatcom County Farm Tour – one of the premier events of September Eat Local Month! The Farm Tour highlights amazing family-owned farms, and is free, self-guided, and family friendly. The Tour will have everything from baby cows to hayrides, and provides exciting educational activities at all of the 12 tour stops.
Visit Alluvial Farms at 2399 Mount Baker Highway, Bellingham to see happy pigs and cows on pasture, sample freshly grilled pork & beef, and purchase individual cuts. Place your deposit on a pork share during the farm tour and win a free Alluvial Farms hooded sweatshirt. If you have time after you visit with us and the animals take a walk along the pastures down to beautiful Squalicum Lake, or stroll through the woods up the foot hills of Squalicum Mountain.
Bring cash or cards if you'd like to buy naturally raised pork or beef, and a cooler to keep purchased foods fresh throughout the day! For detailed farm descriptions and a map, visit EatLocalFirst.org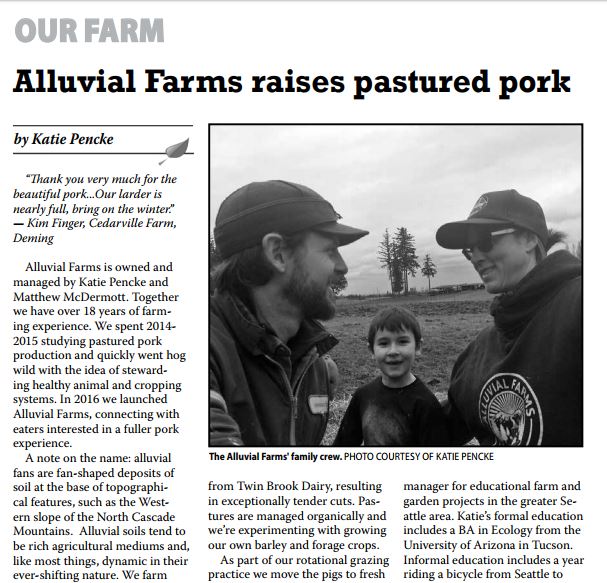 in July issue of Grow Northwest! Thanks Becca and friends for helping us get the word out!