ANIMALS
Alluvial Farms raises heritage breed pastured pigs on organic pastures. Pigs have constant access to the outdoors as well as a big airy barn where they can nest down and stay cool in the summer, warm in the winter. We source piglets from local breeders who meet a high standard of humane animal handling. The pigs we raise are crosses of the following breeds: Old Spot, Red Wattle, Berkshire, Duroc, Hereford, Hampshire and Blue Butt. In 2019 we will start our own breeding program crossing Old Spot, Tamworth, and Berkshire sows with Berkshire and Tamworth.
Our goal is to certify our pork Organic within the next few years. We will harvest 100 pigs on the farm in 2019 and hope to harvest 200-250 per year within the next few years. We are looking for folks who like to eat good meat.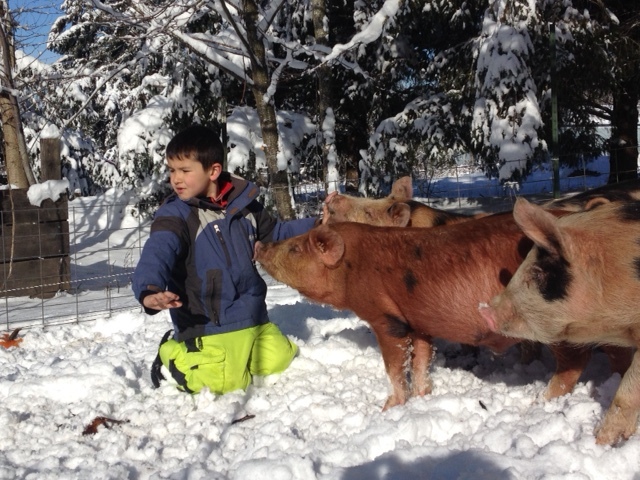 NUTRITION
In addition to forage from organic pastures, Alluvial Farms free choice feeds our pigs the highest quality Organic grains. In November 2018 Alluvial Farms started milling and mixing our own barley/field pea grain ration. We add a certified organic mineral mix and probiotics to the grain ration. The herd drinks 100 gallons of jersey cream milk per week, thanks to our partnership with Twin Brook Creamery in Lynden, WA. We farm forage crops in the paddocks our pigs have vacated, growing field peas, clovers, sorgum sudan grass, and barley in their one acre paddocks to take up the nutrients the pigs have left behind and provide forages for future pig residencies.
October 2018 we sowed our first crop of organic winter barley in our newly established 20 acre grain field. In late July 2019 we harvested and stored 36 tons of barley for organic Alluvial pig feed from that field. We are thankful for the support of Hopewell Farms, Kevin Tevelde Custom Services, and Edelweiss Dairy on the barley project. We could not have done it without you.
LIFE STYLE
Animals have constant access to fresh air, water, food and space to run, play, forage, and explore. As part of our rotational grazing practice we move the pigs to fresh pasture regularly. This is best for soil health and ensures pigs always have access to fresh forages. One acre paddocks are large enough to encourage natural activities such as rooting, running, and socializing. The hub of the Alluvial pig's life is the barn, where they can take shelter from weather and bed down securely at night. Adjacent to the barn is a heavy use area or yard, from which an access lane radiates to give access to different pastures. Water and grain are fed in the pasture via a movable water wagon, and half ton self feeder. Pigs move back and forth from the pasture to the barn multiple times each day.
HARVEST PRACTICES
Alluvial Farms partners with the Island Grown Farmers Cooperative for slaughter and butcher services. USDA inspected slaughter takes place on-farm. USDA inspected processing takes place at the Island Grown Farmers Cooperative in Bow, WA. Animal Welfare Approved handling and end of life practices are observed.
FARM ACCESS
We host an open house and farm stand every second Saturday of the month May through October, from 10 am to 3 pm. Every year we participate in the Sustainable Connections Whatcom County Farm Tour during the first weekend in September. Join our e-mailing list to learn more about monthly farm open houses, offers, and news on the farm.