Alluvial Farms
Regular price
Sale price
$200.00
Unit price
per
Sale
Sold out
Down Payment | Price
$200 down payment | total price $975
Please complete customization form linked here. This can be done before or after you check out.
Scheduling & Customization: Please let us know your desired delivery date and other customization instructions in the form linked here. The link should open a new window so you can fill it out before or after you check out. We harvest pigs year-round. Our waiting list and specific harvest dates are constantly changing. We can usually get to you within three to four months from the down payment, and sometimes sooner!
What To Expect:
You can expect 75# of product to put in your freezer when you order a half hog share, made up of the following:
10 lb.

 

fresh pork belly (Can cure & slice into bacon if desired, add $30 per side)
10 lb. 1" thick bone-in

 

pork chops, 2 per pack. 
4 lb.

 

ground pork
6 lb.

 

sliced hock
15 lb.

 

fresh leg roast

 

(Can cure into 5-7# deli hams. Add $45 for processing.)
7 lb. shoulder steaks & country style ribs, or butt shoulder roast
6 lb. picnic shoulder roast 
4 lb.

 

sirloin roast
1 lb.

 

tenderloin
4 lb.

 

spare ribs

 

(cut in half like a short rib)
3 lb.

 

pork soup bones
2 lb.

 

Offal

 

(liver, kidney, tongue, heart)
6 lb.

 half 

pork head, cheeks on

5 lb. back and leaf fat (render at home for a healthy cooking oil, salve, soap, or candle ingredient, or as a base for pies or other baked goods)
Share
View full details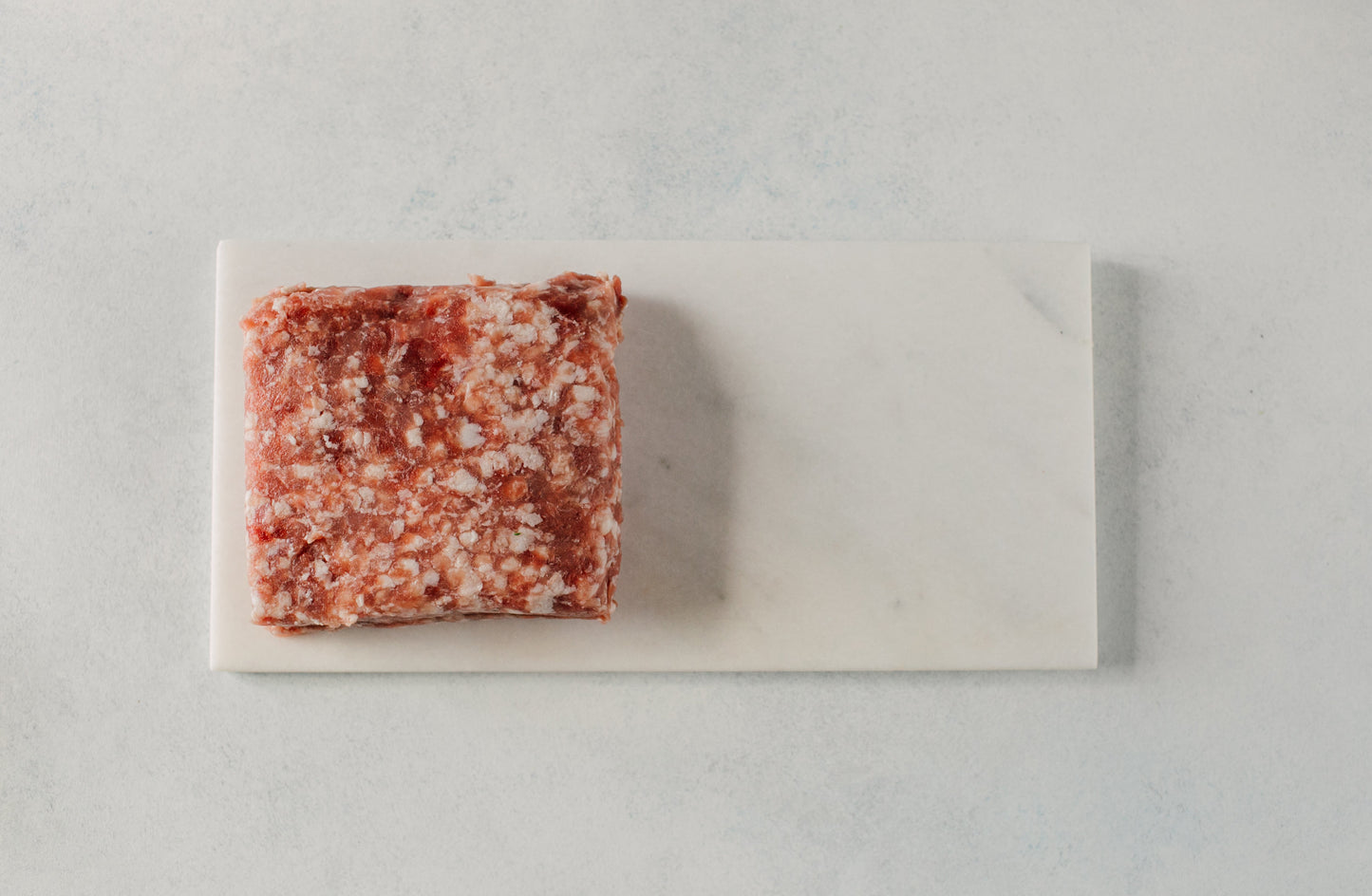 Alluvial Farms custom share timeline
Highlights

Make a down payment for your share through our online store to hold your place in our schedule.

Let us know your desired delivery month, and select custom options in the form at checkout.

Alluvial Farms will email you roughly one month before your desired delivery date to confirm timing and your cutting instructions.

Once your share is cut and wrapped at our butcher, we will pick it up for you, inventory all cuts, and schedule a delivery or farm pick up.

At that time we will also email an invoice for your balance due that you can pay online with credit card or bank transfer, before your delivery or pick up.

Then the fun begins - delicious, healthy meals featuring local pastured Berkshire pork are just a walk to your freezer away.
"I just wanted to say that we fully enjoyed the pork shoulders that you gave us! Pork usually upsets our stomachs and this was the first time we had naturally raised, free-range pork. Wow what a difference! We BBQ'd it and the texture was more like steak than our normal pork, and it didn't upset our stomachs at all. We are very impressed so thank you again and thanks to those piggies!!"
Dinner was so amazing, it was so fun to hang out and chat with everyone, and we loved seeing the farm and meeting the pigs. I feel so lucky that we found Alluvial! The amazing pork (on so many levels), watching y'all build such a cool & thriving business, and feeling like a part of it all. Thank you. And, we LOVE the new logo!"

"Best pork I ever had. I doubled my order the second time. Great service also."

"We bought some chops at yesterday's Farmer's Market and it was the best pork we've ever had so we look forward to getting a share and supporting the farm and the local community!"

"I would say the largest value that I see when I spend money with y'all is that it is going directly to the family that is doing the work. The more direct I can be in contact those who are providing food to my family ~ the more likely I'll purchase and the more I'm willing to pay knowing that it is a direct investment in the people and community."